SA Interest Rates - MPC takes the gap to leave rates unchanged
In a widely anticipated move, the Monetary Policy Committee (MPC) of the Reserve Bank this week decided to leave the repo rate unchanged at 5,75%

The decision, which means that the prime lending rate to consumers and the variable home loan rate will also remain unchanged, at 9,75%, was announced by Reserve Bank Governor Lesetja Kganyago, who said in Davos last week that the Bank would wait to see what the "second round" effects of the recent sharp drop in oil prices were before allowing the drop to affect its thinking on interest rates.
"The position we are taking is that in the same way that when the oil price goes up, you want to see through the cycle, you want to see second round effects kicking in before you can take any policy response, the same must be applied when the oil price goes down," he told Reuters TV.
The oil price has come down by about 60% since June 2014 and has obviously reduced the cost of fuel imports – which account for more than 20% of SA's total imports – and had a moderating effect on inflation.
Indeed, Stats SA has reported that consumer price inflation (CPI) dropped to 5% in December 2014 from 5,8% in November 2014.
But the rand remains weak against the US Dollar and that, combined with wage increases in excess of the current inflation rates are upside risks to inflation, the Governor says, and the looming Eskom tariff increases may shortly also erode any relief that households are experiencing from lower petrol and diesel prices.
Nevertheless the MPC has been given some room to manoeuvre now before it needs to resume the "normalisation" of interest rates to higher levels, which is good news for homeowners, says Shaun Rademeyer, CEO of Betterbond, SA's leading mortgage origination group.
The continued stasis in mortgage loan rates means that the repayment on a 20-year home loan of R763 543 – which is the current national average approved bond amount – will remain at R6993 per month, while the repayment on the average home loan of R645 007 that is currently being approved for first-time buyers will stay at R5907 per month.
This will of course also make it easier for those who are contemplating a property purchase to save for a deposit and to qualify for a home loan.
"In addition," notes Rademeyer, "there will also be no increase for now in car instalments, credit card repayments or other debt commitments, and this will give households a further opportunity to increase their repayments to lower their debt burden and improve their financial position in anticipation of the living cost increases to come later in the year."
Issued By: BetterBond Home Loans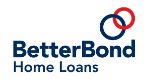 FORM MORE INFORMATION
Contact: Shaun Rademeyer
Tel: 011 516 5500
Website: www.betterbond.co.za