SA Property - Local Authority efficiecy has become a major concern for commercial property investment
Efficient towns and cities with competitive rates and taxes stand to benefit from more commercial property investment and development in 2014, according to the South African Property Owners Association (SAPOA)."Local authorities with competitive rates, lower utility costs and incentives for property developers and owners will fair substantially better in attracting private sector investment. Those with overinflated rates increases, marred with red tape, skills shortages and corruption will undoubtedly lose out," says CEO of SAPOA Neil Gopal.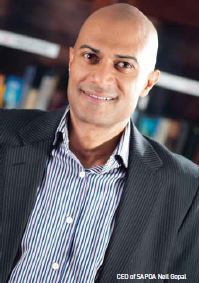 Neil Gopal, CEO of SAPOA - South African Property Owners Association
He adds that because of the frustration many property investors currently face with unreasonably high and mounting rates increases by some local authorities owing to inaccurate data and maladministration, local authority efficiency is becoming an increasingly important factor when making major property investment decisions. As a result, even with excellent development sites, poorly run municipalities stand to miss out on billions of Rands of investment and rates income.
Gopal urges local authorities to ensure correct municipal valuations. "This will lead to an accurate valuation roll and help increase their pool of ratepayers." "In 2014, property development activity will continue on a larger scale such as of Waterfall Business Estate and Steyn City," says Gopal. "Public sector infrastructure spending - like roads, rail and housing - will also have a positive impact on private sector developments.
"SAPOA's recent meetings with the Mayors of Johannesburg and Cape Town and with senior representatives of both cities was a big step forward in the dialogue between property sector and local authorities. SAPOA hopes to continue these discussions and expand them to other regions in 2014. Gopal adds that South Africa's low economic growth outlook of around 2%, a huge current account deficit and the possibility of an investment ratings downgrade by rating agencies, will have a negative impact on all sectors in our economy.
When it comes to commercial property he sees retail continuing its positive performance while the office sector will remain under pressure. "Much of sub-Saharan Africa is starting to attract new multinational investment and this is also bringing more diversification to the local property market with increased interest in retail development in other African countries," says Gopal. When it comes to South Africa's listed property owners, Gopal expects more consolidation of smaller funds in 2014. This will boost the scale and liquidity of the funds. He points out the sector's fundamentals are strong and vacancies are well managed, which bodes well for solid performance.
Gopal also points to the potential of residential REITs, will are likely to be explored by the sector this year. And it isn't only in sub-Saharan Africa that this sector is identifying opportunities. It is also investing in Europe, Australian and even the US.
"The new REIT structure has also paved the way for inward investment into our listed property sector," says Gopal. However, Gopal cautions the sector will remain vulnerable to the several risks in 2014. "We could see increased pressure on tenant retentions and rental growth given the low levels expected for GDP growth," says Gopal. He also lists the main threats to commercial property as: unsustainable levels of increasing rates and taxes, electricity costs, skills shortages in the public sector, the low economic growth rate, poorly conceived legislation, corruption and maladministration.
Source: SAPOA - THE SOUTH AFRICAN PROPERTY OWNERS ASSOCIATION