International Property - London is top global city, but New York poised to take crown
New York will overtake London as the most important city for the ultra-wealthy by 2023, according to Knight Frank's Wealth Report, an annual analysis of wealth flows and property investment around the world.
The report shows that three of the top five most important cities by 2024 will be in Asia, knocking Geneva from the top 5.

Over the last year, the global response to the financial crisis continued to boost property markets in many parts of the world. The latest results from The Wealth Report's Prime International Residential Index (PIRI) confirm that Asian markets, led by Jakarta, experienced the biggest price growth in 2013, followed by Auckland, Bali, Christchurch and Dublin (fig 2).
Liam Bailey said: "History, location and their long-established wealth mean that London and New York's positions look unassailable, at least for now. It is further down our leader board that the real city wars are being waged. The main battleground is Asia, where a handful of locations are slugging it out in the hope of establishing a clear lead as the region's alpha urban hub.
"By region, the Middle East top five includes Istanbul and Abu Dhabi, two centres from our "hotspots" list – cities that are set to rapidly increase their influence on Ultra High Net Worth Individuals* (UHWNIs) – close behind Dubai in prime position. One legacy of the Arab Spring is the enhanced status of Turkey as a safe haven location for investors from the Gulf and North Africa.
"Although it still trails some way behind the top four cities in Asia-Pacific, Sydney is steadily growing in importance as a wealth hub for the region. Despite its geographical remoteness, it comes in as the fifth placed hotspot. Sao Paulo heads the current Latin American top five list. Current trends suggest that the city is also set to see its UHNWI population ranking rise from 11th to 8th position globally by 2023."
In terms of property performance, locations that were hardest hit by the downturn, like Dubai, Dublin and now Madrid, are also bouncing back strongly.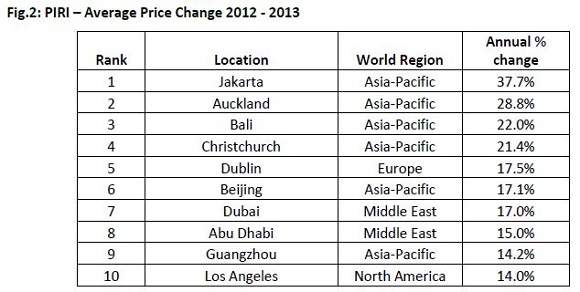 The report also examines wealth creation across the world, finding that the number of ultra-wealthy individuals across the world rose by three per cent last year, despite continued economic turbulence. Exclusive data prepared for the Wealth Report, shows that the number of Ultra High Net Worth Individuals (UHNWIs) in 2023, who have $30m or more in net assets is set to grow by nearly 30% over the next decade.
Data from Wealth Insight, the global wealth intelligence firm, shows that while Europe will remain home to most UHNWIs, the biggest growth will be in Africa. The number of people with $30 million or more in assets will climb by 53% by 2023, underpinned by a 92 per cent rise in Nigeria and a 74 per cent rise in Kenya.
"The growth of UHNWIs in China and India coupled with an eye-catching 144 per cent increase in Indonesia and a stellar 166 per cent hike in Vietnam will help push the total number of UHWNIs up by 43 per cent t0 2023," explained Liam Bailey.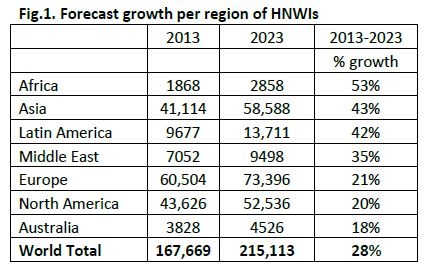 Courtesy: Knight Frank

FOR ADDITIONAL INFORMATION:
Email: [email protected]
Liam Bailey – [email protected] +44 7919 303148
Bronya Heaver – [email protected] +44 20 7861 1412
Alice Mitchell - [email protected] +44 20 7861 5168