International Property - Asian Cities Dominate Global Luxury Property Price Growth
Booming Asian Markets dominates this year's Prime International Residential Index (PIRI) but some of the cities most affected by the 2008 downturn are now on the road to recovery according to Knight Frank.
Jakarta heads PIRI, with annual growth of 38 per cent, almost exactly the same as the rate seen in 2012, according to the research which appears in Knight Frank's Wealth Report. With Bali ranked number three in our table (+22 per cent) Indonesia's key markets are continuing to outperform the rest
The rebound in markets most affected by the downturn in 2008 has continued. Dubai experienced 17 per cent growth in 2013, to add to its 20 per cent gain in 2012. In Dublin, which witnessed tentative increases in 2012, prices climbed 17.5 per cent in 2013.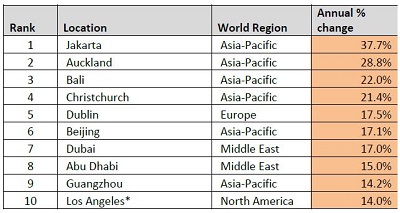 As Knight Frank's Head of PIRI Analysis Kate Everett-Allen notes: "Inevitable debates have ensued as to whether Dubai and Dublin are on the cusp of another bubble. However, in both cases average prices have yet to approach, let alone exceed, their pre-crisis highs.
"Cash buyers are driving sales and regulation is tighter with some purchase and ownership costs higher than in 2008. This follows Ireland's introduction of a new local property tax in 2013 and transfer costs in Dubai doubling to 4% during 2013."
Madrid has joined Dublin as a key European market in recovery, with prices climbing 5 per cent. Munich, with a 10 per cent uplift, is emblematic of the surge in pricing in prime German city markets. This is partly being led by safe haven flows from investors in less secure Eurozone countries looking to insure against the possibility of a collapse in the euro.
Liam Bailey, Head of Global Research, said: "The main theme that emerges from our analysis is a widespread strengthening of values. Last year prices fell in 39 per cent of locations, compared with almost half in 2012. A fifth of markets featured saw double-digit price growth in 2013 against only 15 per cent the year before."
While most of the positive news in Europe is centred on the key city markets, with London, Monaco and Vienna also hotspots, there are tentative signs of a recovery in the prime second-home markets.
Key Alpine markets are seeing stronger conditions, with prices in Chamonix, Verbier and Gstaad rising by 8%, 6% and 3% respectively.
The Italian Riviera, the western Algarve and the prime English country house market are also at the forefront of the nascent recovery. Values continued to rise across the US last year, with double-digit growth through 2013 in Los Angeles, New York and San Francisco.
After a brief pause in 2012, the key Chinese markets staged a notable recovery in 2013. Prices in Beijing were up 17%, a dramatic increase on 2012's 2.3% growth, while Guangzhou rose 14%.
Nicholas Holt, Knight Frank's Head of Asia-Pacific Research, says: "China, as always, has been difficult to predict, with the market continuing to defy expectations and several rounds of cooling measures. The reality is that in such an equity-driven market, the Tier 1 cities are likely to see both demand and pricing continue to head higher."
Elsewhere in Asia, he expects Sydney's prime market growth to continue into 2014, buoyed by low interest rates and steady foreign demand, especially from South-East Asia and China.
Courtesy: Knight Frank

For further information, please contact:
http://www.knightfrank.com/wealthreport/default.html
Email: [email protected]
Bronya Heaver – [email protected] +44 20 7861 1412
Alice Mitchell - [email protected] +44 20 7861 5168