Wealth Report - Number of High Net Worth Individuals in Africa to double in next ten years
The number of multi-millionaires in Africa will grow at a faster rate than anywhere else in the world over the next 10 years, according to Knight Frank's Wealth Report.
Africa also leads the way in Knight Frank's Luxury Hotspot research, which identifies the areas of growth for luxury brands over the next ten years. Ghana, SA, Nigeria, Kenya and Zimbabwe all appear in the top 10.
The number of Ultra-High-Net-Worth Individuals (UHNWIs) – those with more than US$30m or more in net assets - across the world has grown by 59% since 2003, but in Africa the increase has been 130%. This compares to 89% in Asia, 116% in the Middle East and just 44% in Europe.
Data from the report suggests that by 2023 that number will further increase by 53% taking the number of UHNWIs in Africa to 2,858. The report shows that Nairobi will lead the way with a 78% increase, followed by Marrakesh (60%), Johannesburg (41%) and Cape Town (37%).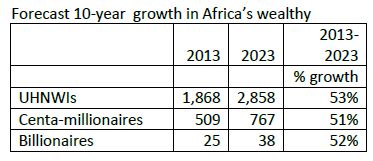 Ouliana Vlasova, chief analyst at WealthInsight, which provided the data, commented: "Africa's potential for wealth creation should not be underestimated, given the amount of foreign investment, including social investment, it has received and is likely to receive in the future."
The economic outlook is also positive, with faster growth forecast for sub-Saharan Africa than for most developed countries. But, as Ms Vlasova highlights, infrastructure must be in place before significant wealth creation can flow from an expanding economy.
"Economic growth is a major factor in wealth creation. However, it takes time for GDP growth to create wealth growth. Wealth growth is heavily dependent on the strength of the local banking system. For instance, in countries such as Cote d'Ivoire and Ethiopia, strong GDP growth has not yet translated into UHNWI numbers due to a weak banking system."
With the creation of UHNWIs comes a predicted increase in spending on luxury goods. According to results from The Wealth Report's Attitudes Survey of wealth advisors and private bankers, it is in Africa where the greatest growth is anticipated, with almost half of respondents anticipating higher levels of luxury purchasing activity.
The continent's growth potential is further highlighted in the report's new Luxury Opportunity Index, which tracks growth in four areas: Luxury retail footprint, Wealth Creation, Premium air travel and Economic growth -
Of the top 10 locations identified in the index, five are in Africa.
African UHNWIs are also helping to drive luxury markets abroad. "Speaking to luxury retailers, some have Nigerians as the third highest non-EU spenders in London during 2012," says James Lawson, Director at Ledbury Research, which compiled the Luxury Opportunity Index.
Although Africa's luxury industry is still only embryonic, with most major brands restricting themselves to South Africa for now, the sector is keeping a close eye on the continent's increasing number of UHNWIs, says Mr Lawson.
"Porsche is set to enter the Kenyan market this year and there is likely to be a 50% increase in millionaire numbers in Ghana by 2016. Although we certainly aren't predicting that the major brands will open in places like Zimbabwe any time soon, there are positive signs emerging from the country."
Mark O' Donnell, a leading Zambian businessman interviewed in The Wealth Report, says the growing middle class in many African countries is helping to boost demand for better goods and services. "Expectations are getting higher. People want to shop in better retail spaces, work in better offices and experience the same standards that you get in developed countries."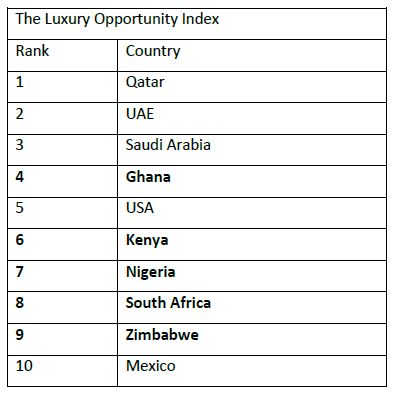 Courtesy: Knight Frank

For further information, please contact:
Press Team @knightfrank ([email protected] / 020 7861 5168)