International Property - Global house prices saw record growth in 2013
Results for Q4 2013:
The Knight Frank Global House Price Index rose by 8.4% in 2013 and by 1.2% in the final quarter.
Dubai recorded the largest annual rise in mainstream property prices, but prices remain 25% below their 2008 peak
Ukraine, Croatia and Greece were the weakest-performing housing markets in 2013
In 2013, house prices rose in 39 countries compared with 27 in 2012
European countries still dominate the bottom of the rankings but in most cases their rate of decline slowed in 2013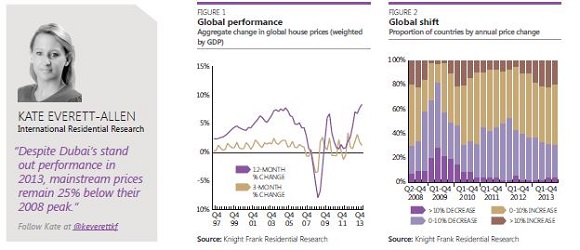 Global house prices are mirroring the upturn in the global economy. Our Global House Price Index, rose by 8.4% in 2013 compared with 4.6% in 2012. Kate Everett-Allen examines the latest results.
Growth of 8.4% in 2013 represented the highest annual rate of growth since our index started in 1995.
The headline global index is now weighted according to each country's GDP which means that the movement of house prices in the US and China will have a greater bearing on the index's performance than that of locations such as Malta or Jersey.
Dubai, China and Taiwan recorded the largest annual rise in mainstream house prices ending the year 35%, 28% and 15% higher respectively.
Despite Dubai's stand out performance in 2013, mainstream prices remain 25% below their 2008 peak.
Improving employment prospects and the continuation of low interest rates in Europe and the US are together fuelling buyer confidence.
Thirty nine countries recorded positive annual price growth in 2013, a year earlier only 27 countries fell into this category.
Several emerging markets, despite their economic wobble in 2013, still recorded a strong performance. Turkey, Brazil, Indonesia and Colombia are ranked in the top ten in terms of annual price growth, each having recorded double digit growth.
Europe continues to dominate the lower half of the table but the rate of decline is slowing in countries such as France, Spain and the Netherlands.
In 2013, Ukraine, Croatia and Greece were the weakest housing markets. Here, house prices ended the year 26%, 14% and 9% lower respectively as political tension and economic stagnation caused demand to wane.
At the opposite end of the scale, there is evidence that the fortunes of even the most embattled housing markets can change, and change swiftly. Prices in Ireland, the US, and the UK rebounded in 2013.
Between 2009 and 2011 Ireland occupied the index's bottom ranking on no fewer than seven occasions. Ireland now ranks in 19th position in terms of house price growth, above Germany, Austria and Switzerland.
The speed with which stimulus measures are withdrawn (QE tapering), the ramping up, or down, of cooling measures in Asia and the repercussions of the political crisis in the Ukraine are likely to be the key determinants of the index results during the remainder of 2014.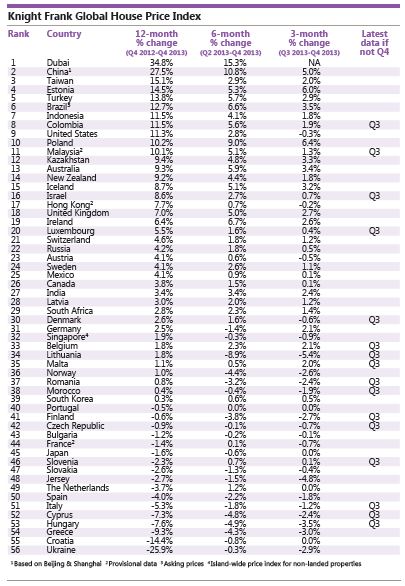 Courtesy: Knight Frank

For further information, please contact:
Tel: +44 20 7861 1033.