International Property - Asian Skyscraper prices tower over the rest of the world
Asian towers dominate Knight Frank's Skyscraper Index of the most expensive high rise office space in the world.
There are many different ways of ranking skyscrapers. Total height and number of floors are the most popular, but the new Knight Frank Skyscraper Index bases their commercial value on an analysis of the capital value of upper-storey floor space. Upper floors typically command premium pricing in the leasing market, achieving what are referred to as 'nose bleed' rents in Manhattan.
Unsurprisingly, Asia dominates the top 10, with Hong Kong boasting the most expensive skyscraper space in the world.
"Skyscrapers continue to capture our imagination. New buildings dominate newspaper headlines, and those with viewing galleries become popular tourist attractions. Island-based cities tend to embrace the tower to maximise space," explains James Roberts, the Head of Commercial Research at Knight Frank.
"While Hong Kong and Tokyo are too far ahead to lose first and second place, I see some competition amongst Manhattan, London and Singapore in the coming year.
"In London there is renewed confidence thanks to better than expected economic growth and rising rents in the office market, and I suspect London could overtake Singapore.
"Given the economic uncertainty in emerging markets, in 2014 we will probably see some of the Asian cities slide down the table, and more western cities on the rise."
Manhattan is the highest placed North American city, and London tops the European league.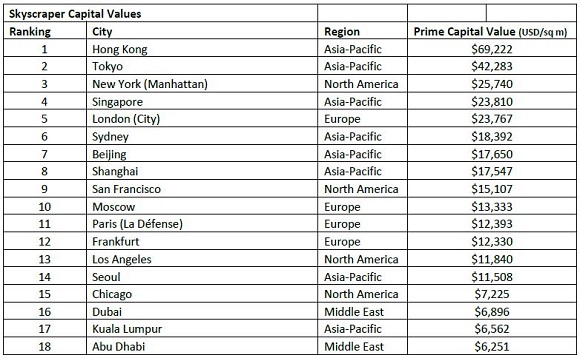 Courtesy: Knight Frank

For further information, please contact:
Bronya Heaver
+44 20 7861 1412
Alice Mitchell
+44 20 7861 5168