Real Estate Investment - Tongaat Hulett to release prime land in Umhlanga for R12 Billion
Tongaat Hulett will release 42 of the remaining 62 hectares of Ridgeside, its iconic development on Umhlanga Ridge, to the market as a single transaction in the first quarter of 2014. Located on the prime sea-facing slopes of Umhlanga Ridge, Durban's first choice office location and one of the leading property investment opportunities available, the site is fully zoned to accommodate 485 000 square metres of mixed use floor area comprising 83 817 square metres of commercial space (offices, retail and other commercial uses) and 3 158 residential units (including hotel and other leisure uses).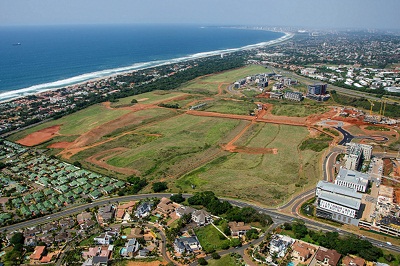 Durban has been constrained relative to other major centres in prime real estate investment during recent years and the strategy is to accelerate the pace of development in Durban in collaboration with other role players.
"The transaction will allow a single investor or consortium to assemble a real estate asset base in the most sought after location in KwaZulu-Natal that will on completion, exceed R12 billion", says Mike Deighton the Tongaat Hulett property executive.
Since the commencement of land conversion on Umhlanga Ridge seventeen years ago, the node has attracted over R50 billion in real estate investment, while currently 164 000 square metres of development, representing more than R3,6 billion investment value is under construction.
Tongaat Hulett CEO, Peter Staude concludes, "The timing is right for this mega property transaction initiative to be undertaken, in order to maximise investment and further increase the pace of development in the region, building on the investment platform already created."
Amanzimnyama
Tongaat, KwaZulu-Natal
4 December 2013
TONGAAT HULETT TO RELEASE PRIME LAND IN UMHLANGA RIDGE FOR R12 BILLION REAL ESTATE INVESTMENT
THE REAL ESTATE SALE
The transaction forms part of Tongaat Hulett's mega property transaction approach, a strategy that will boost market competition, effectively contributing to greater economic growth and investment in Durban.
The initiative creates the opportunity for large national and international players to boost their Durban investment portfolio.
The transaction includes the rights to develop 485 000 square metres of mixed use floor area comprising 83 817 square metres of commercial space (comprising offices, retail and other commercial uses) and 3 158 residential units (including hotel and other leisure uses).
All essential bulk infrastructure is in place, including a major interchange, electrical substation and environmental and storm water management infrastructure.
Potential investors are being given the opportunity during December and January to make an initial assessment of the opportunity and submit their expressions of interest and credentials. This will be followed by a formal procurement process during the first half of 2014.
A similar approach is being planned for Parkside, a residential precinct in the Umhlanga Ridge Town Centre.
Nationally, the mega property transactions approach has been successfully undertaken in a number of instances, most notably Waterfall in Midrand and Cape Town's Waterfront and Century City.
The R512 million profit realised by Tongaat Hulett from its land conversion activities in the past six months included land in Ridgeside that reached the highest price per square metre achieved by the company to date, yielding net revenue after development costs of R34 million per hectare.
THE LOCATION
The site is situated in Ridgeside, the prime sea-facing portion of Umhlanga Ridge.
Through Tongaat Hulett's conversion of former sugar cane lands for urban uses dating back to the late 1990s, more than R50 billion in new commercial and residential property investments have been constructed on Umhlanga Ridge.
The area is anchored by the multi-billion-rand Gateway Shopping complex underpinned by a host of mixed use residential and commercial developments.
The area has become the location of choice for premium and A-grade office space, retail, top quality residential and hotel accommodation in Durban. It has grown to accommodate over 45% of Durban's premium and A grade office space, with a vacancy rate in 2013 of only 3,4%.
The pace of development in this area has increased significantly during the past twelve months and developments comprising 164 000 square metres of floor area, with an estimated investment value of more than R3,6 billion are currently under construction. This includes some 80 000 square metres of offices, 20 000 square metres of retail space, a hotel, a hospital and around 800 residential units.
eThekwini Municipality's recently launched Go! Durban integrated rapid public transport network includes routes that adjoin the site, while accessibility to Umhlanga Ridge is being vastly improved by SANRAL's current R900 million upgrade to the Umhlanga interchange on the N2 freeway and additional lanes being constructed between Umhlanga and King Shaka International Airport.
The location is 10 minutes from King Shaka International Airport and the neighbouring Dube TradePort, a core piece of public infrastructure positioned to drive investment, increase air connectivity and provide intermodal access, comprising air, sea, road and rail linkages, anchoring the emergent provincial aerotropolis.
ABOUT TONGAAT HULETT
Tongaat Hulett is an agricultural and agri processing company with integrated components of land conversion and development. Its portfolio of prime land for conversion to urban and tourism uses in KwaZulu-Natal comprises some 8 300 developable hectares.
The company has established over 20 000 hectares of new cane lands within South Africa over the past two years, with a further 8 000 hectares underway in the current year; nearly half of this is in partnership with governments and communities supporting small scale farmers. Earlier this year, the company announced an agreement with the Ingonyama Trust Board for rural development in impoverished rural areas of KwaZulu-Natal.
Issued by: Tongaat Hulett
Michelle Jean-Louis
Communication Executive
Telephone: 083 386 3846

Distributed by Shirley Williams Communications.
Contact Shirley on 083 303 1663 or [email protected]