Internationl Property - The Impact of Lehman Brothers on European Housing Markets 5 Years On
Kate Everett-Allen, International Residential Researcher at Knight Frank, said: "With the fifth anniversary of Lehman Brothers' collapse approaching on September 15th we look at how Europe's housing markets have fared, calculating each market's average price change from Q3 2008 to date.
"The impact of the ensuing crisis on central and eastern European markets, and Spain, and Ireland in particular stand out. While the resilience of Austria, Germany, Switzerland, and with the exception of Denmark the Scandinavian markets is also notable."
"Austria, Norway and Switzerland have outperformed Germany while Bulgaria, Hungary and the Netherlands have seen double digit price falls on a par with Portugal, Spain and Greece although not exceeding that of Ireland."
"With the Eurozone out of recession and the rate of decline in some of the hardest hit markets now slowing, the outlook looks to be improving."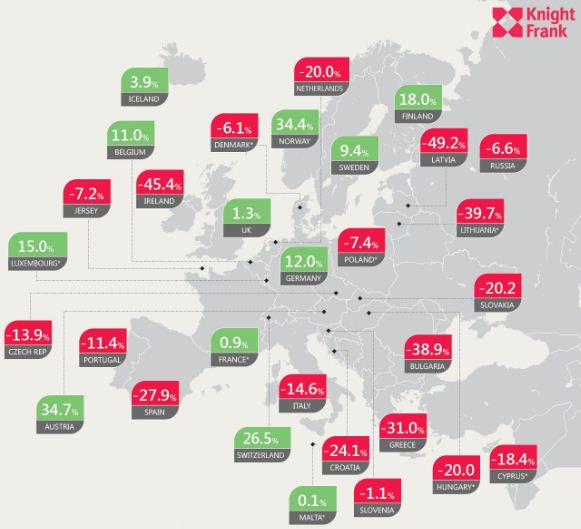 See the above infographic for a full breakdown of European House Prices since Lehman Brothers' collapsed.
We have also tracked the performance of different asset classes since the bank collapsed. This includes property, farmland, gold and the FTSE 100. (see below graph)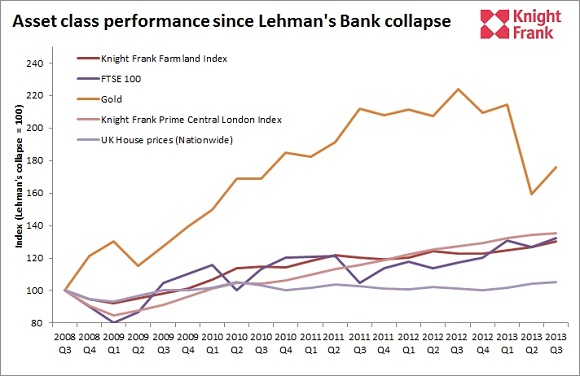 Despite a recent fall in gold prices, the precious metal has increased in value by 76% over the past five years.
Prime central London property, as tracked by the Knight Frank Prime Central London index, has increased by 35% over the same period, just ahead of the FTSE 100 (32%) and Farmland (30%). UK house prices are just 5% higher than they were five years ago.
Courtesy: Knight Frank

For more details please contact John Williams, Head of PR at Knight Frank, on 07957 635892.