Investment Planning - Shaky year for investors with more of the same in store
Marriott, the income Specialists, examine the year thus far for investors and take a look ahead
In the first half of 2013, investors experienced a stark reminder that adopting a short-term focus can lead to tears: a global sell-off of bonds contributed to a depreciation of the rand while the SA 10-year bond yield spiked from 6.2% to 7.7% in about 60 days during May and June 2013, resulting in capital losses for bond investors of some 8%.
This highlights the risks associated with overpaying for an income stream and the unpredictable nature over the short term of an investment's capital value. At the same time, somewhat expectedly given the high correlation between bond and property yields, investors in local listed property experienced similar capital losses, with the sector down approximately 9%.
Warren Buffet elegantly sums up the need for a long-term horizon when investing:
"Your goal as an investor should simply be to purchase, at a rational price, a part interest in an easily-understandable business whose earnings are virtually certain to be materially higher five, ten and twenty years from now. Over time, you will find only a few companies that meet these standards – so when you see one that qualifies, you should buy a meaningful amount of stock. You must also resist the temptation to stray from your guidelines: If you aren't willing to own a stock for ten years, don't even think about owning it for ten minutes. Put together a portfolio of companies whose aggregate earnings march upward over the years, and so also will the portfolio's market value." Warren Buffett on long-term investing
With short-term capital volatility, the long-term benefits of portfolio decisions are often not immediately apparent. The success of an investment should only be measured over the long term, especially when you consider that a retirement plan is often 25 years or longer. At Marriott, our funds are managed to avoid short-term market fluctuations: all projected outcomes using Marriott's Investment Planning Tool are dependent on the income generated by the underlying investments. This is useful to bear in mind, especially in times of heightened market volatility.
By investing only in securities with the ability to produce consistent and reliable income streams at appropriate prices, Marriott is able to provide investors with a retirement plan that is highly likely to live up to expectations, regardless of economic or market circumstances.
Our investment in global defensive stocks illustrates this clearly. We seek out companies that will be resilient to the vagaries of the global economy while also demonstrating a solid dividend-paying track record. These companies tend to focus on basic necessities, enjoy global or country-wide distribution and have strong balance sheets. Their products are generally everyday household items, with market dominance a function of their brands.
By selecting markets and companies that are generally out of favour, we are able to acquire assets at keen prices and lock in high yields. With first world markets having traded sideways for over a decade, reliable-dividend paying large capitalisation equities have been trading on yields well above their historic averages.
These investments typify our investment style:
The selection of securities that produce reliable income streams, ideally growing,
The purchase of these income streams at appropriate prices.
This strategy has paid off handsomely, with average returns over the past three years in excess of 12% per annum of our three international funds, comfortably beating inflation and providing quality income.
This serves to highlight the importance of adopting a long-term focus when making investment decisions. Whether the benefits of portfolio adjustments are immediately obvious or take time to materialise, all our investment decisions are taken from a long-term income-focused perspective where little, if any, consideration is given to short term factors. This ensures that retirement plans are not subject to the unpredictability of market sentiment and short term capital fluctuations.
Looking ahead, we see more of the same
Despite an increase, bond and property yields remain low when compared to historic averages, or a reasonable expectation of long term inflation. From a fundamental perspective, current yields are unsustainable. While it remains difficult to predict whether yields will continue to rise in the short term, the "unusual" factors – such as negative real interest rates and quantitative easing – which have sustained the demanding valuations of these asset classes are showing signs of coming to an end. Markets will pre-empt these changes well before they occur and trying to time the markets will therefore prove difficult. Consequently, we continue to minimise bond and property exposure to protect investors from unnecessary capital risk.
Looking at first world markets, we believe that they will continue to produce superior returns due to their attractive valuations. Reliable-dividend paying large-capitalisation equities continue to offer investors a higher level of income than bonds and are likely to be the beneficiaries of investors disinvesting from bonds in the years ahead. Dividend growth prospects are also improving as the US economy continues to lead the global recovery. Consequently we continue to maximise offshore exposure within Marriott's Solutions.
An investment strategy based on timing markets will expose a retirement plan to the unpredictability of market sentiment, reducing the certainty of an investment outcome. Consequently, by focusing on income and investing only in securities with the ability to produce consistent and reliable income streams at appropriate prices, we are able to provide investors with a more predictable retirement plan, regardless of economic or market dynamics.
This release has been issued on behalf of Marriott Asset Management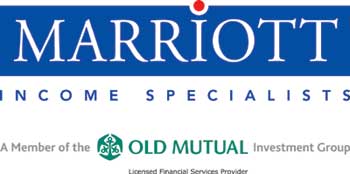 For more information contact:
Marriott Asset Management:
Bronwen Matthews Head of Marketing:
031 765 0736
031 765 0700
Shirley Williams Communications
Shirley Williams: 031 564 7700 or 083 303 1663
Gillian Findlay: 082 330 1477
About Marriott Asset Management
The Income Specialists aim to reduce financial anxiety of retired investors by offering Solutions for Retirement, using an Income Focused Investment Style which produces reliable and consistent monthly income.