United Kingdom - Residential property values around central Crossrail stations
Residential property values around central Crossrail stations are already outperforming, and will rise a further 40% over next five years
Knight Frank analysis shows that average property prices within a 10-minute walk of the central Crossrail stations have risen by 30% since 2008, outperforming the prime central London market by 8% over that time. Between now and 2018, prices in these areas is forecast to rise by an average of 40%.
Knight Frank's Crossrail 2013 report, launched today, examines the impact London's most significant rail infrastructure project for 20 years has already had, and will have on surrounding residential markets. The report introduces the first 'Crossrail Index' which will monitor prices in these areas, between now and the opening of Crossrail in 2018 and beyond.
Crossrail, which was given Royal Assent in 2008, is due to open in 2018 and will cut travel times across the Capital dramatically.
Key headlines:
The average value of residential property within a 10-minute walk of the central stations has risen by more than 30% on average since Crossrail was given the go-ahead in 2008, outperforming growth across wider prime central London by 8%.
The additional average price uplift across all central station 10-minute 'walkzones' between now and Crossrail opening is forecast at an additional 1.2% a year over and above the prime central London forecast – giving an average 40% rise in prices between 2013 and the end of 2018
Housing in Farringdon and Tottenham Court Road will see the largest uplift – values will rise by an additional 1.5% per year over and above the growth expected in prime central London prices to give a total increase of 43% in the next five years.
There are 7,929 private new homes with planning, under construction or recently completed in the central Crossrail 'walkzones'*
Gráinne Gilmore, head of Knight Frank UK Residential Research, says, "Crossrail will increase London's rail capacity by 10% when it opens – the most significant upgrade in rail travel across the Capital since the Second World War. Crossrail has already had an impact on property prices around the central stations we have examined, and we expect this outperformance to continue. The biggest beneficiaries will be Tottenham Court Road and Farringdon, although for quite different reasons. The area around Tottenham Court Road station is set to be transformed by the new developments planned by Crossrail, giving the junction with Oxford Street a much needed facelift. Meanwhile Farringdon will become one of the biggest transport hubs in London, linking the East/West Crossrail route to the North/South Thameslink service and making it a very attractive destination for homebuyers who want to be able to reach most corners of the Capital quickly."
The report also examines how Crossrail is playing a key role in large-scale regeneration around Custom House, Woolwich and Stratford stations.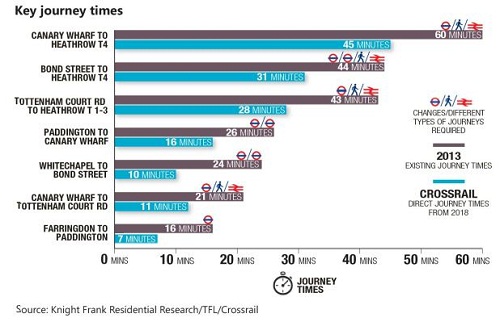 *The Canary Wharf radius is extended to 1km, given the location of the new station entrance.
Courtesy: Knight Frank

For further information, please contact:
Rosie Cade, Residential Development PR Manager, +44 (0)7500 033488, +44 (0)20 7861 1068, [email protected]
Knight Frank LLP is the leading independent global property consultancy. Headquartered in London, Knight Frank and together with its New York-based global alliance partner, Newmark Grubb Knight Frank, operate from over 370 offices, in 43 countries, across six continents and has over 13,000 employees. The Group advises clients ranging from individual owners and buyers to major developers, investors and corporate tenants. For further information about the Company, please visit www.knightfrank.com.