International Property - Scottish farmland price growth set to continue
Scottish farmland price growth set to continue says Knight Frank
Farmland values rose by 7% on average during 2012, according to the latest results from the Knight Frank Scottish Farmland Index.
Agricultural land in Scotland has now almost tripled in value over the past 10 years, outperforming many other asset classes, such as the FTSE 100 equities index and UK residential property, in terms of capital value growth.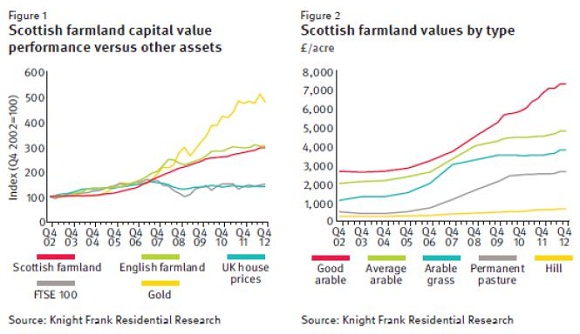 Price increases have historically tended to lag slightly behind the English farmland market, but there is now very little difference in performance
This trend has not been lost on investors, says James Denne, who heads up Knight Frank's Scottish Farm Sales' team. "I have just sold a large block of good arable land to an investment fund. The price was slightly lower than they would probably have had to pay south of the border, but the prospects for capital growth are just as good."
Investors are also attracted to farmland because it is more tangible and less volatile than some other investments, particularly during times of economic uncertainty, says Andrew Shirley, Head of Rural Research.
"If a company you have invested in fails, the value of your shares could be worthless. Farmland will always retain its underlying worth and will continue to provide a rental income. It is also unlikely to experience the short-term peaks and troughs that affect equity markets."
Farmland also compares favourably to other "safe-haven" investments like cash deposits and government bonds, adds Andrew. "Your capital may be extremely safe in the bank, but the returns can be so low that after taking into account inflation the value of your asset is actually eroding."
Scottish farmland also offers other opportunities for investors, not to mention lifestyle purchasers, as well as agricultural income, points out Ran Morgan, Head of Estate Sales.
"We are currently selling a large Highlands estate that boasts some amazing stalking, fishing and shooting, but it also has a huge potential income from hydroelectricity. This has really caught the imagination of potential purchasers who like the idea of owning a fabulous sporting estate that can actually pay for itself."
Subsidy payments for renewable electricity production are particularly attractive for hydro schemes, which can be less controversial than wind projects, adds Ran.
Looking forward, the Knight Frank Scottish Farmland index predicts further growth in values of 3-4% over the next 12 months. "It doesn't seem as if there will be any more land on the market in 2013 than last year, so I expect values to maintain their steady upwards trajectory," says James.

For further information, please contact:
Andrew Shirley, Head of Rural Research, Knight Frank, +44 (0) 1234 720534, [email protected]
Charlotte Palmer, Country PR Manager, Knight Frank, +44 (0)20 7861 5037, [email protected]
The Knight Frank Scottish Farmland Index tracks the average price of bare (no residential property or buildings) commercial (productive arable and pasture) of various types of agricultural land In Scotland. The quarterly index is based on the opinions of Knight Frank's expert valuers and negotiators across the country, that take into account the results of actual sales conducted by both the firm and its competitors, local market knowledge and client and industry sentiment.