UK Property - Funding difficulties continue to affect land values outside the M25, while London prices rise again
Knight Frank Residential Development Land Index, Q2 2011 Results
Prime London residential development land values continued to grow in the second quarter of 2011, although at a slower pace than in Q1. Prices rose by 0.4% between April and June, while the annual rate of growth moderated to 2%.
However, land values in Greater London rose more strongly, climbing by 2.3% on the quarter, the first quarterly increase since Q2 2010, benefitting from newly announced Government initiatives to help first-time buyers. There is also increasing interest in the imminent opening of Westfield, Stratford City, while the increase also coincides with the final annual countdown to the Olympics.
The pace of annual growth in value of residential development land on greenfield sites in England slowed to 4% in Q2, down from 12% in the first three months of the year.
The value of brownfield land in urban England fell by 0.6% in the quarter, stalling annual growth as mortgage funding difficulties continue to constrain the development market.
Average English residential land values are now around 40% lower than their peak at the end of 2007.
There has been a marked increase in private landowners putting sites up for sale. According to Knight Frank, this group now accounts for a bigger proportion of sale instructions than public sector bodies or speculative land investors in the English market.
Gráinne Gilmore, Head of UK Residential Research at Knight Frank, comments:
"Demand for prime land in London continues to outstrip supply, boosting land values and bucking the trend seen in the wider English land market. This is expected to continue as developers search out the most lucrative sites."
"The market in Greater London - which includes all non-prime London boroughs - is picking up, benefitting from the recently-announced Government initiatives to help first-time buyers, which is making more schemes viable in areas surrounding the city centre. Interest is also rising in and around Stratford given the imminent opening of Westfield, which will be the biggest urban retail centre in Europe. The rise in prices over the last three months also coincides with the final Olympic countdown, with just a year to go until the Olympic Games kick off. "
"Demand for prime housing sites in and around larger English towns and cities remains strong, but compromised sites are receiving less attention. Developers and some regional housebuilders have limited access to funding. This remains a major issue, with most interest coming from the national housebuilders who have cash reserves and more robust debt facilities.
"Land values, especially outside the M25, are intrinsically linked to the availability of mortgages and the speed at which housebuilders can sell their properties. The continued constraints in the mortgage market are proving a major influence on the current performance of land values.
"Supply in the wider English market has increased in the last quarter, as sellers looked to take advantage of the lift in prices seen in the latter part of 2010 and the early months of 2011. But for the most attractive sites, this increased supply is still outstripped by demand.
"The polarisation of the market between prime "oven-ready" sites and sites which have compromised planning or a less-than-ideal location remains strong, but there has been a slowdown in overall activity in many areas in England, across all types of site, as the ongoing economic uncertainty affects the industry's confidence. Overall demand for residential development land slipped by 1.4% between April and June."
Who is selling?
"Public sector bodies remain the primary sellers in London, but there has been increased activity by private landowners. Last month St John's Wood Barracks, for example, was put on the market by a private family trust.
"Private landowners are now the major vendors outside London, reflecting the desire by some landowners to bank the gains seen in land prices over the past 12 months. There has also been a rise in the number of speculative land investors bringing sites to market in Q2 2011."
Who is buying?
"Housebuilders and residential developers remain key buyers both in London and in the wider English market. But there has also been a rise in the number of private landowners purchasing land, especially in the South West."
Outlook:
"Land values in prime London areas are expected to continue to grow this year: Knight Frank forecasts a 10% rise in the 12 months to December. Values for urban and greenfield land outside the M25 are expected to remain stable during the year."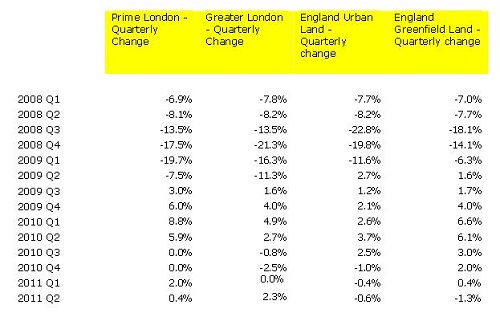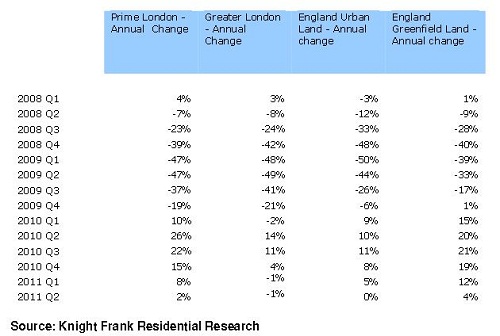 Courtesy: Knight Frank

For further information, please contact:
Gráinne Gilmore, Head of UK Residential Research, Knight Frank,
Tel: +44 (0)20 7861 5102, 07785527145
Email: [email protected]
Rosie Cade, Residential Development PR Manager, Knight Frank,
Tel: +44 (0)20 7861 1068
Email: [email protected]
Knight Frank Residential Development Land
The Knight Frank Land team identifies and arranges the sale and acquisition of properties and building land with development potential on behalf of land owners and developers across the UK. The team works with a wide spectrum of clients including institutions, Government agencies, local councils, private land owners, charities and the house building industry.