UK Survey - Confused planning environment further undermining supply of new homes
Confused planning environment further undermining supply of new homes, finds Knight Frank's 2011 Housebuilder Survey
Knight Frank 2011 Housebuilder Survey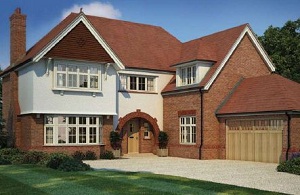 Headlines
• Planning is becoming a bigger issue for housebuilders: nearly 60% of builders surveyed said localism legislation will slow the speed of obtaining consents
• Mortgage finance is the single greatest threat to the new homes sector, closely followed by future rises in interest rates and weak UK economic growth; 39% of builders surveyed suggest implementing subsidised mortgages for first-time buyers
• Knight Frank finds the UK new homes market will fail to deliver nearly enough homes to service the growing population, with housing starts down 43% on 2007 levels: at current rates, the number of new homes being built is less than 50% of the annual increase in the number of households
• Housebuilders report 3- and 4-bedroom houses as the most in-demand product, and 58% predict the average size of developments, in terms of the number of units per development, will decline – reflecting an ongoing move by the industry away from urban and apartment-led schemes
• Land values, while still down 40% from their peak (Q4 2007), are likely to remain firm in 2011, the restriction of land available thanks to changes in the planning regime will offset the increased land coming to the market as a result of distressed site sales.
David Fenton, Head of Regional Land, Knight Frank, comments, "In 2009 the sluggish land market struggled to recover from the down turn. In contrast, 2010 has seen the more enlightened house builder focus on the better sites with quality housing product in a defined and active market place. The schemes need to be well planned, less dense and more family focused.
"In less affluent areas, developers are procuring short- to medium-term land using creative purchasing models, such as Phased Payments and Land Payments linked to unit sales, thus protecting their return on capital.
"The mortgage market continues to constrain buyers but we believe the housing industry sees a glimmer of hope on the horizon, with a number of schemes timed to deliver product in 2013 when financial conditions will have hopefully improved."
Justin Gaze, Head of Land at Knight Frank, reports that transaction prices in the South East have recovered strongly to more usual levels experienced before the market peaked. "Knight Frank has seen strong demand and competitive bidding for traditional housing sites, with national housebuilders willing once again to take on slightly larger development sites (300 units plus) with substantial associated infrastructure costs, in order to secure quality sites. As a demonstration of this strength of demand, Knight Frank has sold in the last year just under 1,000 plots to a single regional divison of a national housebuilder who had not bought any sites for the previous 18 months."
Courtesy: Knight Frank

For further information, please contact:
Rosie Cade, Residential PR Manager, Knight Frank,
Tel: +44 (0)20 7861 1068,
Email: [email protected]

Liam Bailey, head of Residential Research, Knight Frank,
Tel: +44 (0)7919 303 148,
Email: [email protected]