UK Property – Residential development land price growth slows
Knight Frank's Residential Development Land Index, Q4 2010 Results
HEADLINES
· The rate of growth in English residential development land values slowed rapidly in the final quarter of 2010.
· While Greenfield land still managed a rise of 2% during the period October to December, English urban land values fell by 1% and in Greater London the fall was more significant at -2.5%.
· The only urban market which avoided price falls was the prime London market which registered no change over the quarter.
· The recent slowing in quarterly growth has pulled back annual rates of growth, which had hit 26% in prime London in Q2 2010. Greater London annual price growth ended the year at 4%, down from the 14% hit during the summer.
· Despite rising values during 2009 and 2010, average residential development land values as at December 2010 were still 40% below their Q4 2007 peak.
Liam Bailey, Knight Frank's head of residential research, comments: "The residential land market has been a fairly bright spot in the property sector over the past two years. While volumes of transactions were well down on peak levels – there has been a steady recovery in pricing – on average, values have climbed by around 20% from their early 2009 low.
"As we move into 2011, gathering problems are emerging, which seem likely to pull back some of this recovery in values.
"Funding problems continue to provide major difficulties for developers. In most cases there is no funding available for sites without planning consent, and even for land with a consent, loan-to-values of 50% and possibly 60% are the maximum provided.
"The few cash buyers in the market, who drove values forward in late 2009 and early 2010, have already spent a significant amount of money on sites over the past 24 months and are running low on funds.
"There is a risk for 2011 that with an increasing level of stock coming into the market, out of Bank restructuring, supply will begin to rise just as demand is falling back.
"Our view is that land values are likely to fall back in 2011, but land transactions are likely to rise as supply rises from receivers begin to edge higher.
"That said, there are some positive market trends which should support pricing in the more desirable areas of the country – especially Greenfield, southern England markets.
"The main support for the land market is the ongoing scarcity of new build properties, with 2010 new-build completions estimated to be c.101,000 (for England), still 42% below the total reached in 2007."
REGIONAL ROUND-UP
London
Ian Marris, partner in Knight Frank's London Residential Development, comments: "The land market in London last year was characterised by a lack of funding, which has resulted in a landscape dominated by the limited number of parties who have access to cash. In particular, Berkeley Homes was extremely active, and as a consequence has succeeded in securing the majority of the prime London pipeline for the next three-four years.
"Going forward, there is now a more positive developer sentiment, with many housebuilders and developers purporting to be looking to secure new development sites. The limitation on activity in 2011 will continue to come from availability of funding, rather than from desire to build."
East Anglia and Thames Gateway
Charlie Hart, partner in Knight Frank's Eastern Land division, comments on the regional market: "Knight Frank's Eastern land team covers two distinct markets in the region, which have undergone differing experiences over the past 12 months - albeit with possibly more aligned paths in the future.
"The regional residential land market in the last year has been positive, with numerous deals done - Knight Frank sold in excess of 350 housing plots - as demand for good-quality housing remains strong, feeding off the relative strength of the central London economy; we see this set to continue.
"East London, however, saw little land trading. Planning permissions are struggle to achieve development funding, even though we are selling flats at good levels. However, we are starting to see refreshed viable schemes coming through the planning system and we are positive that a distinct lack of supply will fuel renewed focus in this exciting area. Vast infrastructure projects will place opportunities firmly on the map, with growing confidence in areas surrounding the Olympic Park, the Royal Docks and City fringe.
"Crossrail is now clearly on the horizon in terms of development cycles, and this will greatly enhance accessibility from Docklands and Essex - this is starting to be priced in to the larger urban renewal schemes which are coming back into mainstream interest.
"The Knight Frank team for East England has six sites in East London currently on market/under offer for in excess of 750 plots at an aggregate price of £45m."
South West England
Paddy Fleming, partner in Knight Frank's South West Land division, comments on the regional market: "The South West land market, having suffered very badly along with the rest of the country during 2008/2009, last year saw a dramatic increase in activity levels. The volume of transactions is back to pre-downturn levels, with values also recovering strongly.
"The majority of the major house builders have come back to the market following their refinancing, with an appetite for action, and we are receiving inquiries from some new players, keen to take advantage of the region's steady economic growth. In addition, nervousness over "localism" and its potential to hinder future delivery of planning consents has made existing consented land more attractive still.
"The preferred sites in 2011 in the South West will suit family housing, low- to medium-density schemes with 40-100 units per site and with consent in place - for these opportunities we are seeing some aggressive competition."
Midlands
David Fenton, partner in Knight Frank's Central land division, says, "2010 provided a welcome pick up to the UK residential market. In the first six months of this financial year, the team acquired and disposed of approximately 250 acres of land equating to 4,300 plots with a combined land value of £215 million.

"There is significant demand from the 'major housebuilder' for land in the better locations, especially for sites up to c150 dwellings, and we have seen the larger developers acquiring small sites of just a handful of units for the first time in many years. For the larger sites, developers have typically needed to partner up in order to utilise and spread their cash reserves prudently. Sites in tertiary locations or those with planning for dated product can be more difficult to dispose of, with more creative transaction structures typically being required. Lack of bank funding is still preventing new startups from entering into the Market.
"Knight Frank is currently advising on a number of schemes across the Midlands which will see approximately 10,000 housing plots go through the planning process."
Simon Proctor, partner in Knight Frank's South Midlands Land division, comments on his regional market: "In this last year, our region has seen a strong market for a certain size of sites - both under 10 plots and larger than 50 - with planning already in place for family housing schemes. 2011 will bring a continued strong demand for these consented sites: developers are keen to buy certainty in the current economic climate."
South East England
Hugo Stuttaford, partner in Knight Frank's South East Land division, comments on the regional market:
"The mood in the South Eastern land market is of quiet optimism, an uplift from the gloom of the past few years. After a six-to-nine-month period of almost-total inaction in transactions and planning applications, we are now seeing some of the stronger sites in the region being brought forward, but the second-tier sites held on to for now in the hope that prices will soon rise. The nature of schemes' financing has also changed, with more JVs than bank funding, a change necessary because of the lack of liquidity still in the development market."
Data appendix: -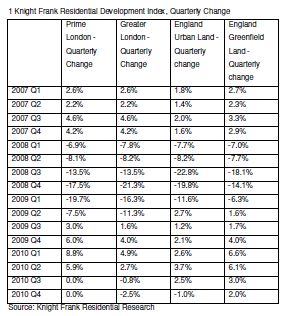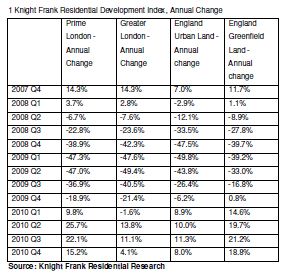 Courtesy: Knight Frank

For further information, please contact:
Rosie Cade, Knight Frank Finance
Tel: +44 (0)207 861 1068
Email: [email protected]