Retire in Style – South Africa's Award Winning Best Retirement Development 2008 / 2010
Retirement decision ………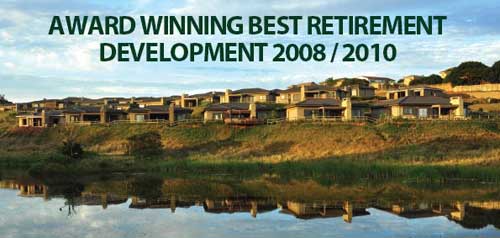 Retirement certainly does not mean "sit down or curl up"...It means a new lease on life and the decision to retire should come long before "creaky knees". Retirement or Lifestyle Villages are no longer merely for the aged, they meet the luxuries demanded by a more privileged society and offer a wide range of purpose built facilities, security, care, leisure, lock up and go and long term investment for that lifestyle one needs in years. Many people are starting to plan consciously or subconiously in the lifestyle they want in the future and are investing now at today's prices and renting them out until the decision to move and become part of a community.
Forest Village offers this and more...and with another Award in the International Bloomberg Africa awards under our belt...demand will soon be outstripping supply.
Decision Made.........
Leave Middleburg? Definitely not! This was my reaction when my daughter said you can't live on your own anymore mom, we worry about you all the time...
Then as fate would have it I landed in Hospital and my daughter Judy who lives in Sheffield beach fetched me, wore down my resistance and we set off for Forest Village on Brettenwood....everything I could wish for...Lovely dams, indigenous plants abundant birdlife lovely neighbours and best of all I could have my little dog Sparky with me...I went home, put my house on the market and before I could catch my breath everything was signed and sealed.
It was Traumatic for me and I was filled with trepidation...what if I wasn't happy? What if?
I have been here for 4 months now and have loved every minute of it, I feel secure, the people are so friendly and I've joined the yoga and arts and craft group...the weather is idyllic compared to Middleburg's polluted air and my health is so much better...As I tell my old friends "It is like living in a holiday resort and everyday is a gift"

Courtesy: Bev Murray
Contact Details:
Tel: ++ 27 82 658 1181
Email: [email protected]