Project Building Costs – Brettenwood Coastal Estate, South Africa
For all those prospective property buyers and those who have bought land on Brettenwood Coastal Estate but not yet built, we will try and outline realistic building costs coupled with the numerous "real costs" most buyers overlook.
We are often asked by clients what building costs they would expect to pay based on a simple square meter rate. This of course is a dangerous way to estimate building costs, as most clients then take the rate quoted and multiply this by the house area. For example: Mr. & Mrs. A casually ask their builder friend / acquaintance what they can build their house for – "R5 000.00 per square meter" replies the builder. Mr. & Mrs. A then multiply their 350sqm house x R5 000.00 and get an answer of R1 750 000.00. However they have neglected (and so has the builder) to consider that their property has 1:4 fall across it, requires piled foundations, retaining walls, driveway, swimming pool, koi pond and water features and oh – Mrs. A insists on marble tiles throughout the living areas and open plan kitchen.
To be realistic, when planning your great adventure of building your dream house, please look at the table below and use this as a guide. Should you be considering "luxury" finishes and fittings such as kitchens, bathroom, light etc., add these items as extras to the costs.

Please also remember that the building industry is constantly affected by inflation, or as we call it – escalation. At present escalation is running at 11% P.A. So the longer the whole process takes, the more your building costs will rise. For example, if your home is costing R2 5000.000 in June 2010, by this time next year this will have risen to R2 775 000.
Now to this you would need to add all the "real costs" associated with homebuilding such as Architects / Engineers fees, Brettenwood Homeowners Architectural Review Committee fees, municipal submissions, NHBRC registration, landscaping, connection fees etc. Again the table below should assist you to determine these: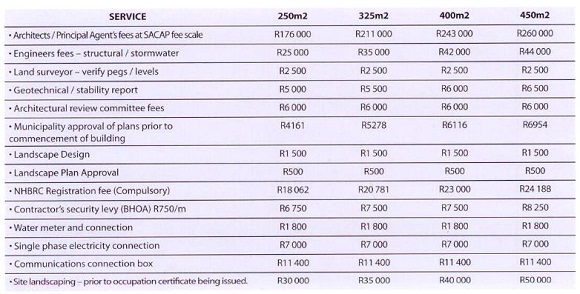 To enable you to understand these costs more fully, please note these explanations:
Architects Fees
Only accredited Architects are accepted by Brettenwood Homeowners Association to design homes on the Estate and to then act as Principal Agent on your home. An Architect's services include the design process to ensure that your ideas are suitably interpreted to suit your site and its integratio0n with its surroundings, neighbours etc. followed by detailed drawings for submission to the Municipality and to obtain competitive quotes from Builders and then your contract administration right through to occupation.
Many owners make the mistake of thinking they save on Architects fees by project managing the building process themselves.
However there are numerous pitfalls to overcome and for the sake of 25 – 30% of yoru Architects fee it is well worth the peace of mind knowing an experienced person can handle these problems on your behalf. Like other professionals most Architects are open to negotiating their fees provided this is done up front in good faith before designs are completed.
Engineers Fees
All homes require a Structural Engineer's input more especially for foundations, retaining walls and concrete structure. They are also involved in stormwater management of the site. Engineers' fees usually amount to 1.5 – 2% of the building cost although with complex designs this can be more.
Land Surveyor
Every site on Brettenwood Estate has been surveyed and pegged by the Developer. However with roadworks, services and neighbours, certain pegs have been disturbed and the Homeowners association requires the Surveyor's peg certificate to verify that homes are built in the correct position and at the correct levels.
Geotechnical Report
Again this is advisable to ensure that foundations are suit and that "settlement" is minimized once your home is complete.
Architectural Review Committee
Every home on the Estate goes before the Brettenwood Architectural Review Committee appointed by the Homeowners Association to ensure that the design guidelines and standards are maintained to safeguard your investment on the Estate.
Municipality Approval
Besides the Estate rules every home has to comply with National Building Regulations and the Municipality controls this process.
Landscape Design
Every property on the Estate has road frontage and side boundary reserves, which are to be planted up with indigenous plants and trees. A landscape plan must be presented, approved and then planted up prior to you moving into the house.
NHBRC Registration Fee
Every home on the Estate has to be registered with the National Home Builders Registration Council before building can commence. In addition your Building Contractor has to be registered with the NHBRC.
Contractor's Security Levy
Building Contractors are required to pay a monthly levy during the duration of the contract. In addition, to ensure your safety and security each labourer has to have police clearance (R120 / person) and carry an access card (R75 / Person).
Water Meter and Connection
The connection fee is paid prior to site handover and the water meter is installed to provide water during construction.
Single Phase Electricity
The electrical subcontractor is responsible for the electrical connections and application forms to Kwadukuza Municipality. Should a 3 phase connection be required the connection fee will rise to R20 000.
Communications Connection
Brettenwood Coastal Estate subscribes to a single provider to connect telephone, internet and email, centralized DSTV, inter home connectivity and security connection all via a Home Communication Box to be installed by the Contractor.
We trust that you now have a better grasp of the building process involved on Brettenwood Coastal Estate – look around and see all the people who have taken the steps, built their homes and now enjoy the finest value for money Estate on the North Coast.
Go ahead, choose your architect, build your home with a reliable Contractor and enjoy a marvelous way of life on Brettenwood Coastal Estate.
Bruce Peter
MAB Ikhwezi Arcitects cc
Tel: 031 303 2833