Legal Matters – An overview of the South African Consumer Protection Act
THE CONSUMER PROTECTION ACT
Source: Simon Watson from Cox Yeats
Date: June 2010
Background
There is a school of thought which views the market as a living natural creature the components of which are the infinite decisions of individuals all trying to maximize the outcome of their actions. The lever, so to speak, which determines the creation of, the price and direction to which goods and services are shifted, is controlled by demand and therefore by consumers. The market is a democratic creature and a cent is a vote.
Current policy makers appear to take a different view according to which the market is an artificial construct, an unnatural anomaly which is controlled by supply. The corollary is that the market requires regulation to protect public interests. National norms and standards relating to all business interaction with consumers and the rights of consumers must be codified and controlled by a centralised authority.
The purpose of this up-date is to outline some possible implications of the Consumer Protection Act, a wide arching piece of legislation which will have far reaching consequences for both consumers and the businesses who serve their needs. Some potential consequences of the Act will be offered along with a summary of the scope of the codified consumer rights. The peremptory new requirements for business names will also be set out. For further information a number of attorneys at Cox Yeats are available to assist including Simon Watson and Themba Zikhali.
The Consumer Protection Act 68 of 2008
The Act is based on the objectives of promoting a fair, accessible and sustainable marketplace and a consistent enforcement framework relating to consumer transactions. The executive summary of the Green Paper noted that, "South Africa's system of consumer law is outdated, fragmented and predicated on principles contrary to the democratic system." The Act provides for the creation of a National Consumer Commission which will ensure compliance and support consumer protection groups.
The scope of the Act should not be underestimated. It repeals much of the Merchandise Marks Act, the Business names Act, the Price Control Act, The Trade Practices Act and the Consumer Affairs Act to name a few.
Failure to comply will have potentially serious consequences including fines of up to 10% of a company's turnover or R1 000 000.00 and in certain circumstances prison time.
* Every business transaction within the Republic will be governed by the Act unless exempted. (Thresholds for transactions between juristic persons are to be determined shortly.)
Consumer Rights - Scope
The Act seeks to protect the interests of consumers by regulating business actions, defining consumer rights and establishing mechanisms for enforcement. Specific reference is made to the following:
- Right to equality in the market. Businesses should be aware that selective marketing as well the supply of goods of varied quality or price to different persons should be justifiable.
- Right to privacy. Marketing practices and in particular direct marketing, as defined, is regulated.
- Right to choice. Any type of agreement requiring continued supply or third party supply is affected as are agreements in which repairs or maintenance are provided. Requirements and standards for return policies, cancellations and other items of importance are set out.
- Right to disclosure of Information. Information on products and services including but not limited to product labelling, description and price must be compliant.
- Right to fair and reasonable marketing. General standards are provided and specific regulation is directed towards bait marketing, negative option marketing, direct marketing, coupons, customer loyalty programmes, promotional competitions and referral selling.
- Right to fair and honest dealing. The act defines and prohibits unconscionable conduct and false or misleading representations. Other items such as pyramid schemes, auctions and 'over-selling' or 'over- booking' as defined are regulated.
- Right to fair just and reasonable terms and conditions. The terms and conditions of contract which are considered unfair and fair are provided. *How this is to be interpreted remains to be seen.
- Right to fair value, good quality and safety. The terms of warranties, the potential liability of service providers, provisions for lay by agreements and conditions to pre-paid services, return of goods and depositions are regulated.
Cognisance should be given in particular to section 61 which is the liability clause for damage caused by goods. Section 61 is broad in scope and provides that a producer, importer, distributor or retailer will be liable for any harm caused by unsafe or defective goods or inadequate instructions, irrespective of whether the harm resulted from negligence on the part of the producer, importer, distributor or retailer, as the case may be. Exceptions are available but should not be assumed.
Business Names
In terms of section 79 all persons carrying on a business or supplying any goods or service under another business name, whether they be sole proprietors, a partnership, a trust or a company or even an association, cannot enter into any transaction with a consumer unless that business name is registered in terms of the Act or other public regulation.
All business including advertisements, promotions and the supply of goods or services can be conducted only if details of the business name are included on all catalogues, trade circulars, business letters, order for goods, sales records and statement of account. Business names must be registered with the Registrar in the manner prescribed. Any potential disputes will be resolved as per the procedures set out for disputed names of companies in the Companies Act (1973).
The prohibition will not apply if a business name has been actively used for a period of one year before 29 October 2010. Non compliance could result in an order from the Commissioner that a business name may no longer be used.
Closing Comments
The cost and risk of doing business may increase as a result of the Consumer Protection Act. Aspiring entrepreneurs might not be able to achieve the product quality standards while established businesses might be obliged to spend capital on compliance, litigation, legal fees and insurance. If so, the supply of goods could decrease or the price of goods increase to the detriment of consumers.
It has been said that, "The democracy of the market consists in the fact that people themselves make their choices and that no dictator has the power to force them to submit to his value judgments." While the disposition of the Consumer Commission remains to be seen, it is evident that the impact of the Act on commercial practices and transactions will not be insignificant.
Most of the Act comes into force on 29 October 2010. To avoid problems, businesses should pre-emptively consider whether their modus operandi ranging from trading names, contractual provisions and product labelling to disclosure policies, advertising campaigns and marketing practices will be compliant. We will be happy to assist in interpreting and applying this new law to your business operations.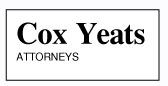 COX YEATS
SIMON WATSON
Telephone: ++27 31 304 2851
Email: [email protected]
Website: http://www.coxyeats.co.za