New Soccer Stadium - Durban Ready for 2010 FIFA World Cup Kick Off
DURBAN READY FOR 2010 FIFA WORLD CUP KICK OFF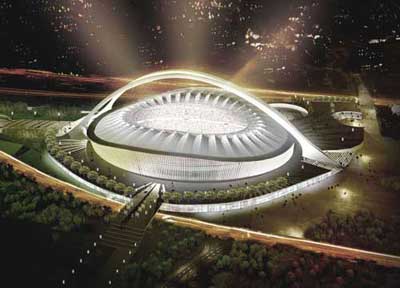 On 13 June 2010, a blast on the referee's whistle will signal the start of the first 2010 FIFA World Cup game to be hosted at Durban's iconic Moses Mabhida Stadium - an occasion which will be marked with pride by all Durban residents who have followed the construction of this world- class, state-of-the-art, multi-functional stadium, located in the heart of the Kings Park Sporting Precinct.
Named after a hero of the working class, the Durban Kwazulu Natal Moses Mabhida Stadium is one of ten venues to host matches at the 2010 World Cup finals in South Africa. The ground is located in Durban and has a capacity of 70,000 seats.
To make way for this prestigious contribution Kings Park Stadium was demolished in the late 2006 to develop a new stadium complex set to comprise of an adjoining indoor arena, sporting museum, sport institute and a new trans-modal transportation station in preparations ahead of the world showpiece.
There are plans and allocations to increase the capacity of the stadium to 84 000 seats in the future to further accommodate major events such as the Olympics. For the provision and successful accomplishment of this development, the allocated budget amounts to RI, 83-billion.
Planning of the development started internally in January 2006 with the demolition of Kings Park which began around June/July 2006. The piling commenced in November 2006 and the Principal Building Constructor started with the site in January 2007.
The stadium is also intended to cater for a variety of sporting activities such as rugby, cricket and athletics and will operate seven days a week throughout the year unlike other stadiums, post 2010 FIFA World Cup.
This brand new stadium has been designed and built in accordance with the latest international safety and security requirements, with special attention given to issues of crowd control and evacuation procedures. Infield facilities comply with international sporting codes enabling the stadium to host football, rugby and athletics events as well as concerts, cultural and motor events, to name just a few of its multi-functional uses.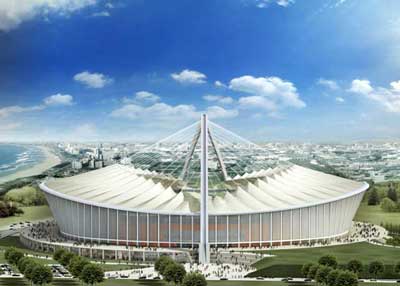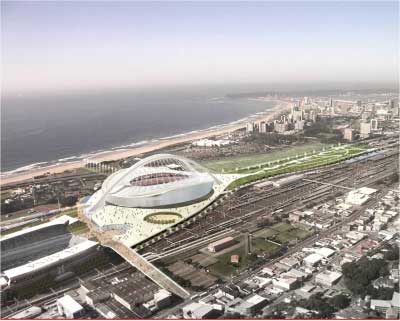 Source: www.satour.co.za

Courtesy: Agent – The Official Publication of the Estate Agency Affairs Board
"Redressing the Past, Building the Future and Guiding the Real Estate Business towards Professionalism"