UK Property - Residential Development Land Index, Q3 2009 results
Knight Frank Residential Development Land Index, Q3 2009 results
Tight supply and new demand from builders underpins development land value growth, according to Knight Frank
Headlines: -
Development land values have risen, albeit marginally, for the second quarter in row

Land values rose by 1.1% (urban land) and 1.6% (Greenfield)over the three months to the end of September

Despite the recent growth, on an annual basis land values were down by 26.4% (urban land) and 16.8% (Greenfield)

Land values in and around urban areas remain almost 50% below their Q4 2007 peak

Demand growth has been led by re-financed house-builders, but private equity groups are still significant players
Commenting on the latest residential demand land index figures, Liam Bailey, head of residential research, Knight Frank said:
"For the second quarter in a row development land values have risen – albeit by only a marginal amount. Despite this recent rise, values still remain around 20% down year-on-year and, for urban sites, almost 50% below peak levels.
"The market is still very thin in volume terms, with a stand-off between land-owners - who expect values to rise still further over the next 12 months - as builders try to acquire land and to rebuild stocks, and purchasers who are finding development financing still in short supply.
"There has been a slight rise in the level of receivership stock coming to the market in recent months, however the lack of distressed sellers means the current market is very different to that experienced in the early 1990s.
"Purchasers tend to be buying in cash or are only moderately debt fuelled. Many of the builders and developers entering the market are looking to defer payment, either through option or overage agreements or staged payments. Private equity buyers are still a strong force in the market.
"The builders and developers coming into the market have been driven by concerns over weak stock pipelines for 2010 and 2011 – some of these new buyers have not bought land since early 2007.
Low future stocks encourage new purchases
"For a sector that has been beset by bad news from the onset of the credit-crunch, the change in sentiment in the new-homes market in recent months has been dramatic. With discounted properties selling well, and with some very useful help from shared equity products and government support, existing stocks are running low.
"Unbelievable as it would have seemed a year ago, agents and builders are increasingly concerned regarding the lack of stock to sell – especially when they look forward to next year's spring market.
"The reaction has been for many builders to raise money, to allow them to buy new land and start building. The volume of new-build starts has certainly improved since the turn of the year – but there is evidence that this is the result of less complex sites being built out.
Difficulties in maintaining future volumes
"Maintaining growth in the rate of new-build starts will not be straightforward. At the sharp end of the downturn the development sector has lost staff and skills and will take time to rebuild capacity. But the biggest issue is how to access cut-price development land. With the banks in no hurry to force distressed sales of the portfolios they lent against, there is precious little good land, namely land with workable planning consents, available to buy.
"Solutions to the impasse are being found by new joint-venture arrangements between the banks and the newly re-financed developers. Despite this, we ought to expect that the growth of new development volumes will be a slow process – suggesting that very tight new-build supply will remain a feature through 2010."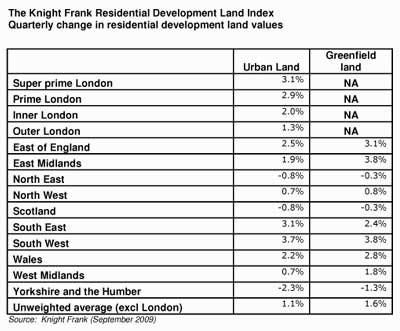 Courtesy: Knight Frank Residential Research

For further information, please contact:
Liam Bailey, Knight Frank residential research
+44 (0)7919 303148
Tania McNally, Knight Frank residential development press manager
+44 (0)20 7861 1068