Fractional Ownership Partially Yours Forever
The term "Fractional ownership" has come into to the market place as the latest "buzz word" in an industry intent on maintaining its vertical nature. The market as we have all seen is softening due in part to an over supply in the top end, as Developers struggle to show value and prices continue to soar. But is this a new concept or simply a rehashed, re-marketed version of an existing system?
In essence fractional ownership is by definition the full ownership of a part of a full title, or part ownership or a fraction of an entity which owns a property or a number of properties. Such ownership also implies either usage for a certain fraction of time in the property, or a split yield payout of the net rental income of the property.
One of the oldest methods of fractional ownership is Joint ownership, whereby the property is bought by a number of individuals, and each member of the group receives transfer of their undivided share in the property. Typically the co-owners enter into an agreement regulating their rights and responsibilities for common expenses and other necessary monies. Although such a method is the strongest form of ownership (actual title ownership), it does carry the disadvantage that every transfer of shares must be an official deeds office registration - which attracts additional fees.
Other schemes exist that allow part ownership of a suitable 'vehicle': a trust, company or close corporation, which such ownership can be traded all the more easily. The purchasing 'vehicle' owns the property in question, the disadvantage being that the shareholder or part owner of the 'vehicle' may have little or no control over the liabilities to which the vehicle is exposed - yet they may be totally liable for the actions of said 'vehicle'.
However, the most suitable form of fractional ownership is based on the outdated and relatively unpopular Share Block legislation. Share block schemes involve the purchase of property by a share block company with purchasers acquiring shares in the company on the basis that ownership of such shares will confer the right or interest in the use of the immovable property. These rights are controlled by a "Use Agreement", and such schemes afford the purchaser or investor significant protection in the form of the Share Blocks Control Act. Furthermore, such shares are easily and readily tradable in the open market place.
One of the few examples of how to properly take advantage of this niche concept has been developed by Wolfson properties in Cape Town. Wolfson are currently developing 3 stunning and state-of-theart luxury villas. All the villas (neigh boring each other) are designed by award winning architect Stefan Antoni Olmesdahl Truen and are located in the prime Bloubergstrand Village, in Cape Town, 2 minutes stroll from the white sandy beaches and the Waterfront, and with classic views of Table Mountain, the Atlantic Ocean and Robben Island.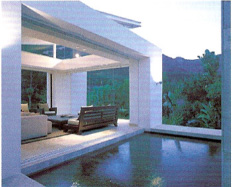 An example of Stefan Antoni's work.
Each villa is over 600m2 and stands on large elevated plots. The properties have been designed with luxury in mind and all have four beds and four ensuite bathrooms. Each has a heated pool, air conditioning, under floor heating and its very own Jacuzzi. A 24hour concierge service is available, as well as high speed Internet, wireless net access and VOIP. In addition each unit comes fully furnished to the specification of Stefan Antoni.
The concept has been created as follows. There are 13 shares per villa- but only 12 are sellable - a management company (EVOLV Leisure Management Pty Ltd) will retain the 13th share to carry out the management and care of the unit for the benefit of all the shareholders.
Each share entitles the shareholder to 4 weeks (28 days) use of the entire villa, and if the owner does not wish to utilize certain weeks a holiday rental income can be generated.
Each owner will have the benefits of deeded ownership- with all the capital growth and appreciation that goes along with it. They will have the exclusive use of a 5 star graded* Stefan Antoni designed holiday villa, which will be managed by EVOLV. The location is in tremendous demand, and is almost impossible to book into during holiday times - not to mention highly expensive. However, for a one-off payment of R850, 000 shareholders can enjoy a part of this paradise for a fraction of the cost, in perpetuity.
A 10% deposit is required on signature of the agreement, with the balance being secured by a payment or guarantee. The transfer will only occur in April 2007, and the balance can be paid across to the developer then. Shareholders share in the usage, returns and of course equity growth.
This concept has been designed for those who holiday in Cape Town on a regular basis, but can also be utilized by large Corporate's who need to periodically provide accommodation for their top executives or directors. Either way, you are only paying for the time that you use and what's not used will be rented out so really this property pays for itself when you consider the ever escalating premiums being charged for prime Cape Town accommodation.
So fractional ownership is nothing new, not scary and certainly not confusing, its rather a combination of a number of existing commercial and legal concepts used to purchase property. It is certainly not timeshare and certainly not deserving of the criticism attributed to share block and syndication schemes. If the concept is appropriately organised and managed, it can present excellent investment and ownership opportunities.
For further information on this fractional ownership scheme please speak directly to your Hunters Negotiator or call 0861 616616.
* 5 Star Grading by TGCSA- exceptional quality and luxurious accommodation (matching best international standards). Highest standard of furnishings and flawless service.
Courtesy Hunters