UK Property - Prime London residential market bounce strengthens
Knight Frank Prime Central London Index
Key highlights:
The Knight Frank Prime Central London Index recorded positive growth for £1m+ house prices for the second month running in May

Prices rose by 1.6% during May, which was four times the rate of growth seen in April, when prices rose by 0.4%

On an annual basis prices are now down 20.1%, and are down 22.3% from the March 2008 peak

The recovery in prices has been led by the sub-£1m sector, where prices have now risen 2.7% since March this year

The £10m+ sector has seen the slowest recovery – with prices only 0.8% higher over the same period

The strongest performing locations are Mayfair and Marylebone – where prices have risen by 2.9% and 2.7% respectively
Liam Bailey, head of residential research, Knight Frank, commented:
"There has been a steadily improving picture in the central London market in recent months with buyers growing in number and deals beginning to shift upwards.
"There is no question that purely in terms of sales activity the central London market is unrecognisable from where it was six months ago. The falls in capital values, cheap debt, overseas investors with US$ and Euros have encouraged buyers back into the market, with many just keen to get on with their lives having put all financial decisions on hold for the duration of 2009.
"The release of this pent up demand has meant that for many of the central London offices sales volumes are up significantly with May being one of the busiest months in the last 18 months with volumes over 30% up on the same month last year. We have even see some bankers back in the market after a noticeable absence.
"The majority of the sales are in the £1m to £3m price range, two bedroom flats to medium sized family houses with buyers seeking quality – on the best streets, upper floor flats rather than basements and so on.
"Even the top end of the market (£10m+) is beginning to get busier with Russians that have managed to retain their wealth buying in the best locations as they are keen to place their cash in the UK.
"Supply is still thin across the price ranges. This is particularly acute in the £1-2m range causing great frustration for overseas investors who think they should be able to pick up bargains. The net result of this imbalance is that gazumping is back with the sealed bid system being used again for the first time in 18 months. All this has put a floor under prices, indeed for the best locations prices are up by almost 3% over the last two months."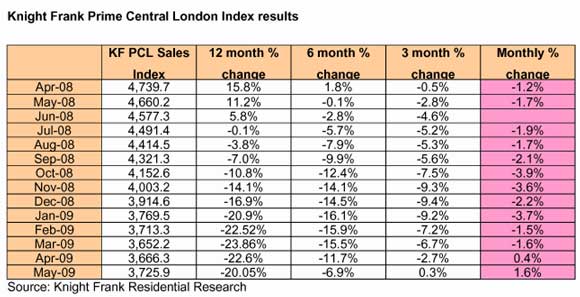 Courtesy: Knight Frank Residential Research

For further information, please contact:
Liam Bailey, Knight Frank residential research
+44 (0)7919 303148
Niki Riley, Press Office, Knight Frank,
+44 (0)20 7861 5037
Knight Frank area definitions
Prime central London is taken to include: Mayfair, Marylebone, St John's Wood, Regent's Park, Kensington, Notting Hill, Chelsea, Knightsbridge, Belgravia and the South Bank (from Westminster Bridge to Tower Bridge/Shad Thames)
Prime London is taken to include all the above plus: Canary Wharf, Hampstead, Fulham, Richmond, Wandsworth, Wapping and Wimbledon.