Global House Price Index Third Quarter 2006 results
Headlines this quarter - US leads global house price slowdown
Third quarter 2006 results from the only truly global house price index are released today, with new data and more countries covered
Average global house prices stood 8.4% higher at the end of September 2006 compared to the same period 12 months earlier; global house price inflation has continued to slow from the peak levels reached in 2004, average annual prices were growing by 10.9% in September 2005
Norway, Australia and the UK have seen biggest uplift in growth, climbing the ranks of the index list by 12, 10 and 9 places respectively
The biggest losers have been Hong Kong, US and Italy, down 26, 10 and 9 places respectively
Growth is led by European countries, taking nine of the top index rankings; the recent and proposed accession states are particularly strong performers
Data overview
The Knight Frank Global House Price Index is the first serious attempt to analyse pricing trends in residential property across the world on a standardised basis every quarter. Results for 32 countries are released today and are based on an assessment of price changes in the mainstream housing markets of each of the countries covered.
Liam Bailey, Head of Knight Frank Residential Research, comments: -
The general picture remains a slowing of growth across the board, especially in the previously incredibly hot locations in the recent EU Eastern European accession states. The key market in slowdown mode at the moment is the US, which has seen a halving of its growth rate in 12 months with further declines forecast for the rest of 2006 and into 2007.
The question of whether the US market downturn will turn into a more general national economic downturn is still uncertain; however new mixed data on the housing market suggests that demand has recovered some ground since early Autumn.
We now have five countries in the index recording negative price growth; Hungary (-1.0%), Portugal (-1.2%), Japan (-2.2%), Hong Kong (-2.6%) and Germany (-3.0%).
The reasons for Hungarys poor performance are related to existing low affordability in the market and poor stock quality which means existing owners are competing in a market with new stock which is often of a much higher specification. Portugal has suffered from weak domestic demand, compared to the European average, with low household formation however this has been set against a background of significant new supply which has to some extent led to sluggish price growth. Germany has been the poor man of Europe in housing terms for well over a decade and any change in this position is still some way off low owner occupation and low occupancy levels in the former East Germany have contributed to this performance.
Hong Kong has seen an incredible transformation over the last 18 months, with growth at above 20% in 2005 replaced by negative growth now. The transformation has been mainly a result of a series of interest rate hikes in early 2006 which knocked prices at all levels. The current trend appears to suggest lower borrowing rates in late 2006 and early 2007 which should serve to underpin the market in the short term.
The big winners in terms of price growth are Latvia (39.2%), Bulgaria (19.0%) and Denmark (17.8%), although all three have seen a slowing in price growth since late 2005.
Latvia has seen, and is forecast to see over the medium term, economic growth above the EU average. We commented last quarter that a levelling up is affecting almost all the markets in the former Eastern Bloc especially those which have joined the EU in recent years. Wage inflation, growing prosperity and access to less constrained mortgage finance have all contributed to rapidly rising prices. The same process has been experienced in Bulgaria where domestic demand has been complemented by international second home demand. Denmark has seen prices benefit from a low but growing proportion of owner-occupation, full transparency of ownership for overseas investors and a low and stable inflation and interest rate environment.
The general trend is that global residential markets continue to experience slowing but positive growth in spite of concern about increasing affordability issues, mounting household debt and market sustainability.
In most markets price growth has slowed, however the underlying demographic, economic, financial fundamentals remain healthy which suggests that a hard landing is unlikely. Exceptions to this could occur in localised areas which have seen and continue to see substantial new development and which risk possible oversupply if recent levels of construction are sustained.
Indeed, there are factors which point towards a further demand boost in those markets predominantly in central and southern Europe - which have limited mortgage penetration and which are experiencing strong economic expansion.
The appetite for second homes, whether for personal use or for investment reasons, continues unabated, facilitated by ever increasing accessibility via new low cost air routes and the growth in supply of residential properties in both the mass and luxury sectors.
Looking ahead, we are upbeat about prospects in 2007. With no obvious major international shocks visible at this point in time and a continuing broadly benign economic and interest rate environment likely, we see both buyer confidence and appetite remaining firm. We expect the global market to be aided by better news from the US in 2007, with US growth hitting a low of 0% to -2% in Q1 2007 before a slow recovery through the rest of the year.
Data summary
Knight Frank Global House Price Index - annualised house price growth and country rankings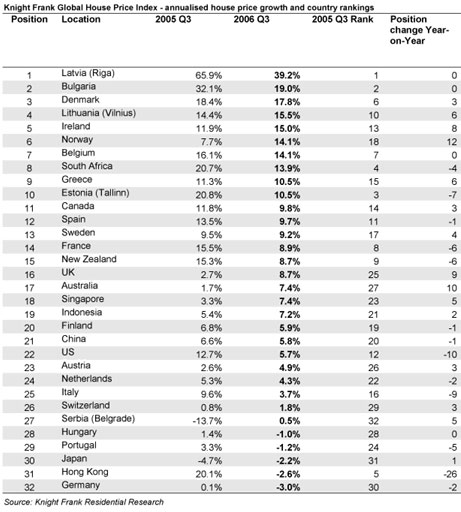 Source: Knight Frank Residential Research